When a creator account is suspended, it places temporary limits on that creator's FANBOX activity. To have the suspension lifted, the creator must revise their creator page.The causes of suspension and methods of revision are detailed below.
Limits imposed by creator account temporary suspension
Temporary account suspension is one way the FANBOX management team can impose temporary limits on the FANBOX activities of a given creator. The limits are as follows.
Suspended from gaining new supporters and new pledges
Creator page made private (except to the creator and current supporters)
Suspended from sending e-mail and website notifications to supporters and followers
Posts hidden from FANBOX timeline
Posts hidden from tag search results
Newsletter feature suspended
Supporters of creators whose accounts have been temporarily suspended will still have unlimited access to browsing the creator's page content, including supporter-only limited content.


Reasons for temporary suspension of creator accounts
The most common reasons for creator account temporary suspension are listed below.
The creator's main page contains "items requiring revision"
The FANBOX team has determined that the creator's page includes other items that violate the Terms of Use/Guidelines
Check What are Items Requiring Revision? for details.
Photo-realistic images that could be mistaken for actual photos, uncensored images of genitalia and/or penetration are prohibited under the pixivFANBOX guidelines and Service Master Terms of Use Article 14, "Prohibited Conduct". If such content is found on a creator's page, the creator's account will be suspended regardless of the presence/absence of "items requiring revision", so creators whose accounts have been suspended should check to make sure that such content is not present on their page.
pixivFANBOX Guidelines
Service Master Terms of Use
How to have a temporary suspension lifted
After revising or deleting items requiring revision, creators should contact FANBOX via the form below before the deadline stipulated in the account suspension notification message.
If FANBOX confirms that the creator's content has been appropriately revised, the account temporary suspension will be lifted.
If the creator does not revise their content and contact FANBOX by the deadline, all pledges from supporters will be blocked, and all the creator's followers will be removed. Thank you for your understanding and cooperation.
* It may take a few days for FANBOX to confirm whether the appropriate revisions have been made.
Items which might require revision
The creator's cover image and main page text may all be designated as "items requiring revision". Each item can be set and revised from the "Manage Creator's Page", "Manage Plans", and "Account Settings" menus.
Items on the "Manage Creator's Page" menu that might require revision
カバー画像 - Cover image
ポートフォリオ - Portfolio
プロフィール - Profile
Items in "Manage Plans" that might require revision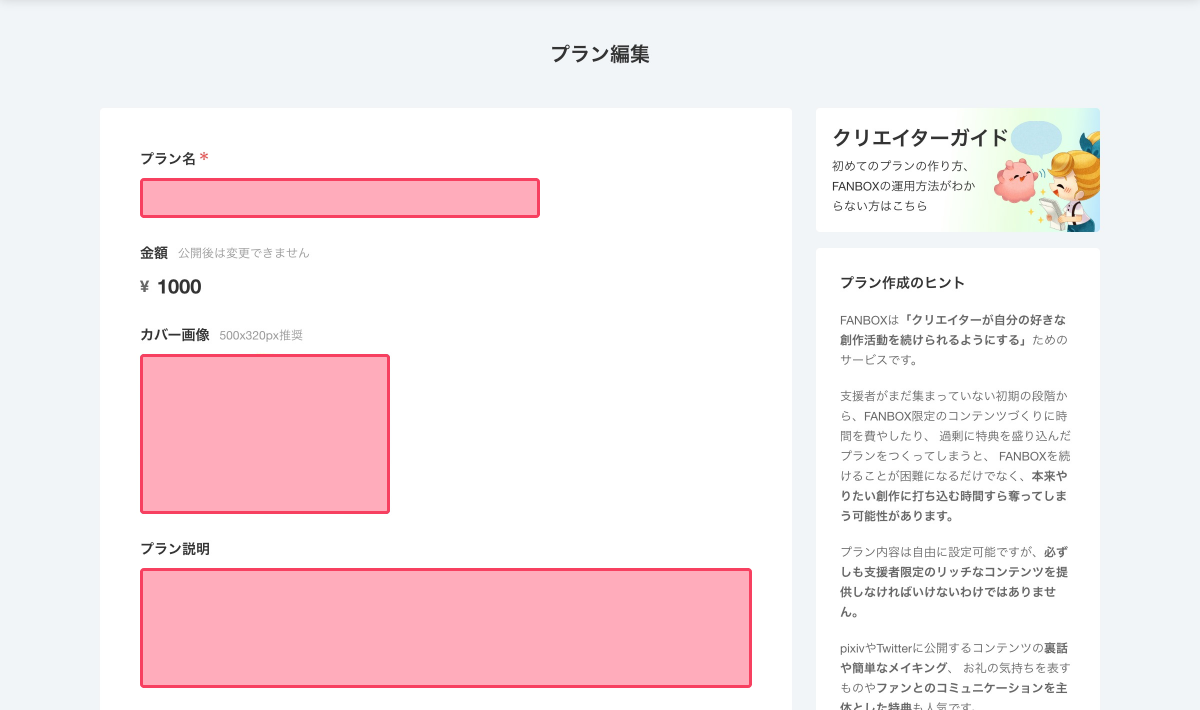 プラン名 - Plan name
プランカバー画像 - Plan cover image
プラン説明 - Plan description
Items in "Account Settings" that might require revision

ユーザー名 - User name
ユーザーアイコン - User icon